Most of us keep our surplus cash lying in our savings bank account. However, we should, from time to time, take a look at our savings bank statement and ask ourselves, how much balance we should have in our savings bank account? We should always keep our funds for emergency purposes in our savings bank account. But very often we have much more lying in our savings bank, either because we are waiting for an upcoming expense or we do not know what to do with the money. Liquid fund is a much better option than savings bank account for parking your surplus funds for short duration.
Liquid funds are money market mutual funds and invest in short-term instruments like treasury bills, certificate of deposits and commercial papers and term deposits. The objective of liquid funds is to provide the investors with an opportunity to earn returns, without compromising on the safety and liquidity of the investment.
Differences between Savings account & Liquid Fund:
| | | |
| --- | --- | --- |
| | Savings Account | Liquid Funds |
| Interest rate / Returns p.a | 4% | ~ 8-9% |
| Interest | Interest is calculated on daily basis but credited quarterly / half-yearly depending on the Bank | Interest is calculated daily and credited daily and compounding of interest happens daily |
| Liquidity | Yes | Money can be withdrawn/redeemed in 1 day |
| Ease of Investment / Redemption | Bank / ATM | Can be easily invested & sold through online account/SMS |
Liquid Fund Returns
Liquid funds deliver 8-9% returns which is much higher than the returns from your Savings account. The table below shows returns of some liquid funds.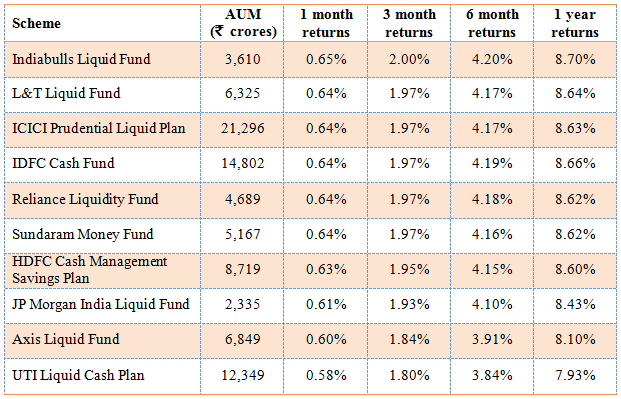 Conclusion
Liquid funds are very good investment options for parking your surplus cash / short term funds and they deliver better returns than Savings Account. You can start with investing as less as Rs. 5000 in liquid fund and see your money grow daily. Once you are convinced, you can transfer your Savings account balance to Liquid Funds and redeem whenever needed.